Microscopic features :

Symmetrical tumour ;

Well- circumscribed margin resting on PAS-positive thickened basement membrane ;

Composed of glycogenated clear epithelial cells with peripheral palisading in deeper parts ;

Cells are PAS- diastase positive ;

Some lesions contain eosinophilic "intermediate cells" (some times known as follicular poroma) ;

Architectural patterns ranges from follicle like, vertically orientated, bulbous, lobular, verrucous or poroma- like ;

There is broad connection with overlying surface epithelium ;

Some cases display connection with individual hair follicle ;

Epidermal changes resembling verruca vulgaris present in some cases (focal koilocytosis and prominent hyaline granules).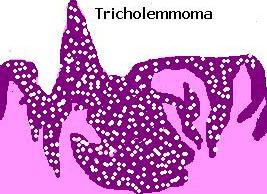 Diagnostic feature of trichilemmoma: Evidence of outer root sheath differentiation characterized by:
1. Bland epithelial cells showing peripheral palisading ;
2. Clear cytoplasm ;
3. Prominent intercellular borders ;
4. Thickened and eosinophilic, PAS- positive basement membrane.
These changes are usually noted at the base or at the lateral margin of the lesion.
Immunohistochemistry: CD34 and cytokeratins: Positive