Dermatosis papulosa nigra

is a benign epithelial tumour, common in the black population.

It is regarded as a variant of seborrheic keratosis by some authors.

However, unlike seborrheic keratosis the proliferating epithelial cells are not composed of basaloid cells.

Clinically, dermatosis papulosa nigra presents as multiple small pedunculated papules less than 5 mm in diameter.

These are predominantly located on the forehead, malar region of the face, neck, and upper trunk.

According to a study of 30 patients the Dermatosis papulosa nigra was predominantly noted in female patients.

The average age of onset of the lesions was 22 years, with a progressive increase in size and number.

Family predisposition, and photodistribution of the lesions were found.

Microscopic features: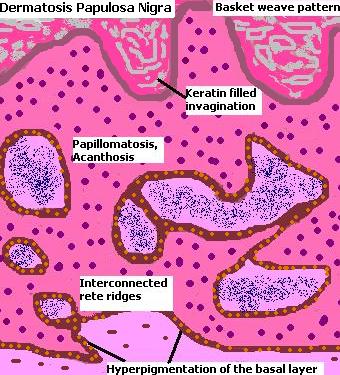 Diagram showing the microscopic features of Dermatosis Papulosa Nigra
The lesion is characterised by parakeratosis, papillomatosis, acanthosis, hyperpigmentation of the basal layer, thick interwoven tracts of epithelial cells, and horn cysts.
The horny layer shows basket weave pattern.
Keratin filled invagination of the epidermis is often present.
Melanophages may be present in the dermis.