Lupus Vulgaris is a common form of reinfection tuberculosis.
It is caused by Mycobacterium tuberculosis .
Age: Common in young adults.
Site: Head and neck region, extremities and buttock.
Clinical presentation: Usually there are multiple erythematous papules forming a plaque and rarely crusted ulcer formation.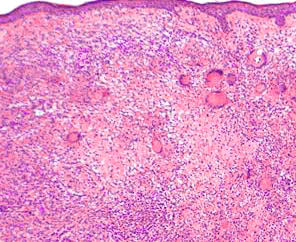 Microscopic features: There are tuberculoid granulomas with a tendency to confluence, throughout the dermis. Langerhans cells are present in moderate numbers in the granulomas. The overlying epidermis may be atrophic or hyperplastic.
Visit: Tuberculosis ; Skin infections- (Histopathological patterns)