Tungiasis

is a neglected parasitic skin disease which is endemic in Central and South America, the Caribbean and tropical Africa.

10 important facts about Tungiasis - A rare Infectious Disease of the Skin:

1. Tungiasis is caused by cutaneous infestation of humans by the gravid female sand flea (also called jigger flea) Tunga penetrans.
2. It is a rare disease in non-endemic area.
Cases have been reported in various parts of the world due to global warming, international travelling and migration.
Tungiasis should be considered in the differential diagnosis of parasitic infections in travelers returning from endemic geographical areas.
3. The lesions are usually located on the feet and is characterized by pruritic and painful papules and ulcers.
The lesions may be either single or multiple, with a whitish halo and a brown-black central core.
Diagram of the lesion showing greyish white halo with black central core and surrounding inflammation
4. Ectopic tungiasis has been described involving conjunctiva, tongue, hands , elbows, thigh, gluteal region and knee.
5. Tunga penetrans enters through the skin of its host.
After penetration, the flea undergoes hypertrophy and few days later the abdomen of the flea can enlarge up to the size of 1 cm in diameter.
6. The lesion undergoes hypertrophy.
Few days later the abdominal segments of the flea enlarge up to the size of about 1 cm.
7. Clinically, patients complain of pain, itching and difficulty in walking.
One child presented with fever which was considered to be caused by superinfected tungiasis.
8. Histologically, the skin shows diffuse papillary epithelial hyperplasia with severe orthokeratotic hyperkeratosis.
There are multifocal areas of ulceration and inflammation.
Sections of arthropod parasites together with ova are embedded in the epidermis and dermis.
Collection of eggs in different stages of development are identified in the stratum corneum.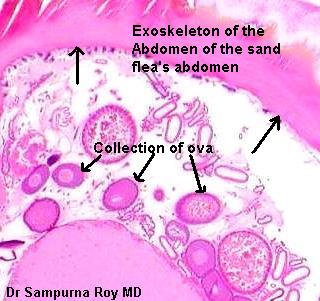 9. Complications include nail dystrophy, deformity of the fingers or toes, scarring, nail loss, cellulitis, lymphangitis, tetanus, osteomyelitis, gangrene, and spontaneous amputation of the toes.
10. Strict measures should be taken to control the disease.
The disease can be eliminated by improvement in the housing hygiene, confining domestic animals and increasing the knowledge of the disease by health education.