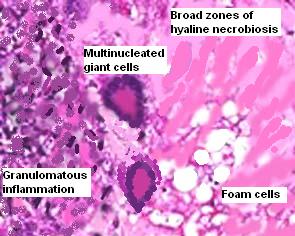 Hand drawn diagram showing some of the important features of Necrobiotic Xanthogranuloma
Necrobiotic xanthogranuloma is a rare disorder which is frequently associated with paraproteinemia and lymphoproliferative diseases.
Age: Middle-aged or elderly patients.
Clinical presentation: Lesion presents as reddish, partly xanthomatous nodules or plaques.
Site: These are usually located around the periorbital area. Other sites include extremities and trunk.

Histopathological features:
Extensive areas of hyaline necrobiosis surrounded by a palisade of histiocytes and multinucleated giant cells ;
Large numbers of necrotic inflammatory cells in the reticular dermis ;
Superficial and deep perivascular lymphoplasmacytic infiltrate ;
Presence of foam cells, multinucleated giant cells (Touton and foreign body types), cholesterol clefts and extracellular lipid ;
Lymphoid follicles may be present ;
Extensive areas of fat necrosis in the subcutaneous tissue.
Differential diagnosis:
Necrobiosis Lipoidica: Much less collagen degeneration.
Foam cells, large numbers of necrotic inflammatory cells and cholesterol clefts are absent.
Atypical giant cells are not prominent.
Panniculitis is localized to the septa.
In necrobiotic xanthogranuloma the lobules are extensively involved. Necrobiosis lipoidica diabeticorum with cholesterol clefts in the differential diagnosis of necrobiotic xanthogranuloma.