Histoplasmosis duboisii is a pulmonary disease which commonly affects bones and skin.
It is caused by the large-celled form or duboisii variety of Histoplasma capsulatum.
When grown in vitro, mycelial and yeast forms of this fungus are indistinguishable from those of the classical, small-celled form or capsulatum variety of this species.
The two can be distinguished from each other only when the size of the yeastlike cells that develop in tissue is observed.
Diseases caused by the two varieties of Histoplasma capsulatum are clinically and pathologically distinct.
Natural infection caused by Histoplasma capsulatum var duboisii has been reported mostly in human and nonhuman primates from Africa.
It is an important deep mycosis endemic in Central and West Africa and in the island of Madagascar.
The disease is rarely seen in the United States in persons who previously lived or travelled in Africa.
Clinically, patients usually present with one or more of the following:
- Lymphadenopathy ;
- Mucocutaneous lesions characterized by abscess formation and ulceration ; and
- Insidious osteolytic lesions, particularly in the ribs, long bones, and cranium.
- Disseminated disease may also involve the lungs, liver, spleen, and intestine.
Lesions typically contain a dispersed granulomatous inflammatory reaction in which large numbers of yeast-like cells are seen within the cytoplasm of histiocytes and huge multinucleated giant cells.
The spherical to oval fungal cells are uninucleate and 8 to 15 micrometer in diameter, have thick walls, and bud by a relatively narrow base.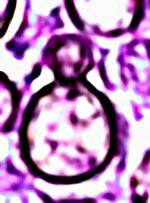 Classical "hourglass" and "double-cell" forms are created when budding daughter cells enlarge until they equal the size of the parent cells, to which they remain connected by a narrow base.
Tissue forms of H. capsulatum var. duboisii and Blastomyces dermatitidis are of similar size and shape and thus may be mistaken for each other.However, the latter buds by a broader base and is multinucleated.
Histoplasmosis capsulati also occurs in Africa, but its causative agent is much smaller (2 to 4 micrometer) in tissue than the large-celled duboisii variety.
Amphotericin B and excision of isolated skin lesions are treatment of choice for disseminated and localized infections, respectively.
Visit related post : Histoplasmosis