Labelled diagram showing features of Lichen Planopilaris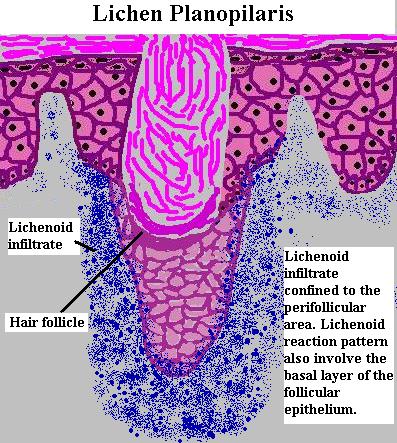 Clinical and Microscopic Images of Lichen planopilaris ( Click on the images for enlarged view)
1)Definition:
Lichen planopilaris, a subtype of lichen planus , is an inflammatory condition characterized by patchy or diffuse hair loss with erythematous papules and keratotic follicular lesions that evolve to cicatricial alopecia.
2) History:
Lichen planopilaris, also called follicular lichen or follicular lichen planus, was initially described by Pringle in 1895.
3) Incidence:
Although rare, it represents 25% of the cases of cicatricial alopecia.
4) Age and sex:
It is more frequent in women (70-80%), with a peak age of onset between 30 and 60 years.
5) Etiology:
The etiology of this condition is poorly understood. It has been proposed that it is caused by an autoimmune reaction against follicular antigens mediated by T-lymphocytes.
6) Site and clinical presentation:
Although classic LPP can occur on any part of the scalp, it usually affects the vertex region. Diagnosis of LPP is suspected in the presence of cicatricial alopecia, plaques (single or multiple), with inflammatory signs on the hair-bearing margins, such as perifollicular erythema and scaling. Pain, itching or burning sensations may be associated and indicate disease activity. There are reports of body hair involvement in some variants of LPP.
Early LPP is characterized by hyperkeratotic plugs at follicular ostia and peri-follicular violaceous erythema at the periphery of the expanding alopecia.
7) Subtypes:
Traditionally, it can be divided into three different clinical types: classic type, frontal fibrosing alopecia, and Graham-Little-Piccard-Lassueur syndrome.
Graham-Little-Piccard-Lassueur syndrome consists of scarring alopecia of the scalp, non-scarring alopecia of the axillary and pubic hair bearing areas, and an eruption of keratotic papules.
Frontal fibrosing alopecia presents with a progressive bandlike alopecia of the frontal and parietal scalp. Eyebrows, eyelashes, and other vellus or terminal hairs of the face and extremities can be involved. Frontal fibrosing alopecia has a greater incidence in women and may be related perimenopausal state.
Other variants reported in the literature include scarring alopecia of the vulva , lichen planus follicularis tumidus, and linear LPP of the face.
Linear lichen planopilaris of the face is a rare variant of lichen planopilaris. In contrast to lichen planus and lichen planopilaris, linear lichen planopilaris of the face is more common in middle-aged men.
8) Microscopic features:
Lichenoid (Interface) Tissue Reaction Pattern ; Lichen planus-like lesions
Histopathology demonstrates a lichenoid inflammatory infiltrate with vacuolar degeneration of the basal layer and destruction of basal keratinocytes.
Hypergranulosis, acanthosis, hyperkeratosis, Civatte bodies, pigment incontinence, and follicular plugging can be seen
Necrotic keratinocytes can be found both in the dermis and epidermis.
There is folliculocentric lichenoid infiltrate at the level of the infundibulum sparing the lower portion, and damage of the outer epithelial sheath of the follicles.
Altered expression of integrins leads to the loss of adhesion of follicular keratinocytes to the stroma. This could probably explain the artifactual clefts noted in histological samples and the phenomenon of easy plucking of the hair, with a "gelatinous" root-sheath containing stem cells.