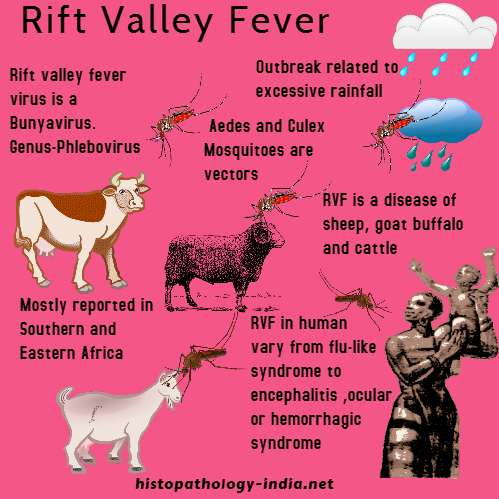 Rift valley fever is an arboviral disease produced by a bunyavirus belonging to the genus Phlebovirus.
Several species of Aedes and Culex are the vectors of this virus that affects sheep, goats, buffalos, cattle, camels and human beings.
The human disease is well known, especially during periods of intense epizootic activity.
The initial description of the disease dates back to 1930, when animals and human outbreaks appeared on a farm in Lake Naivasha, in the Great Rift Valley of Kenya.
Until 2000, this disease was only described in Africa, and there have been cases in southern and eastern Africa and in the Sudan and Egypt.
Later outbreaks were also declared in the Kingdom of Saudi Arabia (2000-2001 and 2004) and in Yemen (2000-2001).
Clinical presentation: In human nonspecific, influenza-like symptoms (headace, fever, myalgia, etc) are prominent. Hemorrhagic complications resembling those of yellow fever develop in some patients and may be fatal.